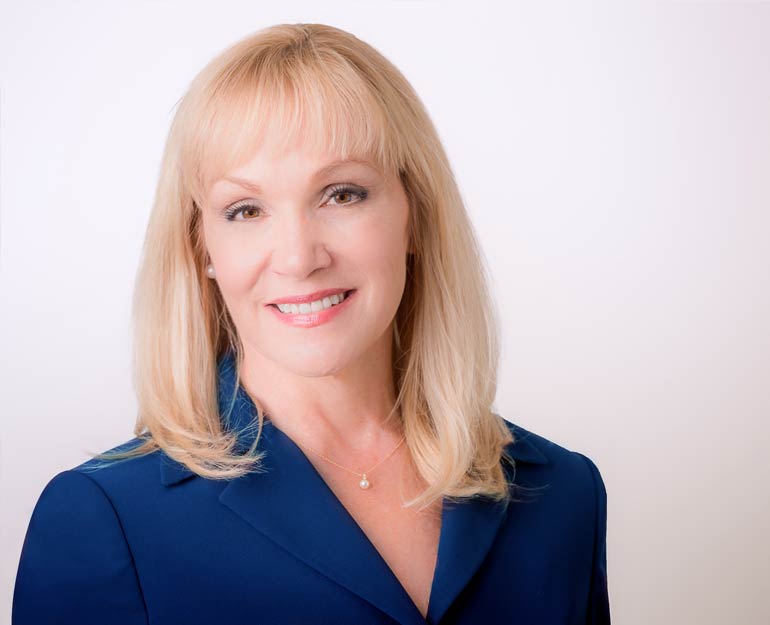 Watch Deborah speak on "Civility in the Workplace" (2 min).
Dinner Table Etiquette with the Mann Family (2:37)

Deborah King, AICI CIP, CPC, CPECP
Civility is the cornerstone. Social skills are the tools. Brain science is the method.™
Deborah is an internationally recognized civility and etiquette expert. She is founder and CEO of Final Touch, a company specializing in brain-based social skills training. With nearly 40 years of experience, Deborah is a sought-after speaker, corporate trainer, consultant, television personality, and author. A civility pioneer, Deborah developed unique social skills curriculum focused on relationship building that culminates in a single question: How do you want to be remembered? ™
Deborah's passion is to equip people from all walks of life with the skills necessary to cultivate social capital. Her clients confidently evaluate and respond to business and social environments—whether formal or informal—with grace and ease. Deborah designs and delivers courses on topics such as civility, etiquette, communication, and impression management. Through customized programs and one-on-one consulting, Deborah partners with individuals and organizations across the country and around the world. Her classes instill confidence, enabling professionals to better represent themselves and their organizations.
Deborah's Story
As a teenager, Deborah believed that everyone knew a secret that she did not know: what to say, how to behave, and how to meaningfully connect with people. She discovered that social skills—like any other skill—must be learned, and she passionately pursued an intricate understanding of this skill set. In 1989, Deborah launched Final Touch in Seattle, Washington, determined to provide more than a traditional finishing or charm school.
Deborah was mentored by the legendary Letitia Baldrige, who was social secretary to the American ambassadors in Paris and Rome, and Chief of Staff for Jacqueline Kennedy. Deborah is a Certified Protocol, Etiquette and Civility Professional (CPECP), a Certified Professional Coach (CPC), and one of only 86 Certified Image Professionals in the world (AICI CIP).
As a Founding Director for the Institute of Image Training and Testing International (IITTI), Deborah partnered with six of the world's top etiquette and image experts to create the first-ever global standardized certification on soft skills. Deborah also co-founded the Global Protocol, Etiquette & Civility Academy (GPEC), and is a Founding Member of the Association of Image Consultants International Civility Counts Project, which established May as Global Civility Awareness Month on Chase's Calendar of Events.
Deborah is a reliable resource to the media, author of More Than Lipstick, and a co-author of Modern Etiquette for Youth, Image Power, Executive Etiquette Power, and The Power of Civility. Her speaking style is warm and engaging. Deborah's clients describe her as a "dynamic" and "inspiring" speaker that has a "genuine desire to educate," and whose knowledge "helps us all to remember [that] how we act and how we dress will leave a lasting impression with everyone we meet."
A Seattle native, Deborah currently lives on a farm near Dallas, Texas with her husband. When she is not teaching, you can find Deborah cooking, traveling, and spending time with her granddaughters.

Watch Deborah speak on "Civility in the Workplace" (2 min).
Dinner Table Etiquette with the Mann Family (2:37)
Melissa Case-Merritt, J.D., CFN
Civility is the cornerstone. Social skills are the tools. Brain science is the method.™
Melissa delivers a brain-based approach to social skills training that is rooted in civility. She is passionate about helping people transform their communication strategies—their appearance, behavior, and conversation techniques—with science-backed tools.
Melissa specializes in crafting curriculum that translates well-researched insights from behavioral science (neuroscience, psychology, and behavioral economics) to practical strategies that help her clients strengthen their relationships and increase their effectiveness. Why? Because all business is done between people, and people do business with those they know, like, and trust.
Melissa's Story
Melissa's fascination with communication and connection began early. She was a three-time state champion in speech and debate, placed ninth in the nation in high school, and fourth in the nation in college. Out of 93,000 competitors, Melissa was one of only 25 people honored as a National Forensic League All-American in 2001. After graduating magna cum laude with special honors in economics from the University of Puget Sound, Melissa earned a J.D. from the University of Southern California Law School while serving as the University-appointed student teacher for all first-year legal curriculum.
After law school, Melissa joined the Los Angeles office of a prestigious law firm. Her passion for the courtroom was matched only by her love of mentoring young lawyers. Her years in "big law" taught Melissa a profound lesson. Despite years of formal education, critical "soft skills"—engaged listening, crafting clear messages, and powerful first impressions to name a few—were often underdeveloped in her colleagues. While the technical legal skills of her peers were roughly equivalent, excellent social skills largely separated thriving associates from struggling ones.
Melissa's experiences confirmed a powerful truth: Social skills are either setting the stage for your success or sabotaging your performance.
Interested in understanding the science behind why and how we effectively engage one another, Melissa earned a Certification in the Foundations of Neuroleadership with distinction and joined Final Touch. Leveraging her diverse training and business experience, Melissa brings a fresh, contemporary perspective to the social skills industry. Her experience leading and operating high performance teams in complex environments provides a unique depth of services to her clients. Melissa is an engaging speaker, a dynamic corporate trainer, and an inspiring consultant with nearly 20 years of experience.
Melissa grew up in Seattle. After practicing law in New York and Los Angeles, Melissa moved to Dallas, Texas with her husband and their daughters. She loves water sports, legal novels, cheese, and escaping to the ocean.
Want Free Tips?
Subscribe now to receive our free monthly newsletter. We never sell your information—that's rude!
Thank you for subscribing!